COMBICHRIST, Support: Terrolokaust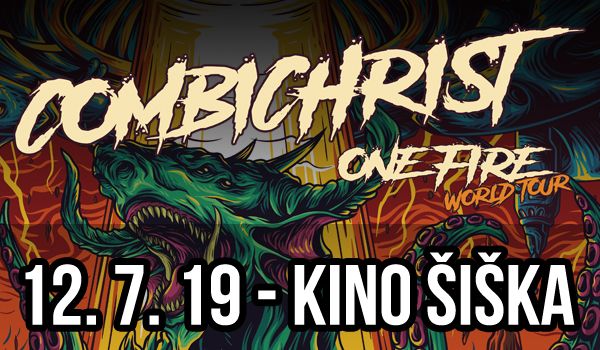 Prihaja Combichrist
Julija bo Slovenijo obiskal eden in edini težkoindustrialni kolektiv, Combichrist.
12. julija bo zelo zanimiv dan, saj bomo imeli priložnost prisostvovati zasedbi Combichrist iz ZDA, ki jo vodi Norvežan Andy LaPlegua (poznate ga tudi iz Panzer AG ter Icon Of Coil). Zasedba velja za eno vodilnih na področju industrial metala, do zdaj pa je izdala dobrih devet studijskih in live albumov. V živo so rušilna sila, ki jo LaPlegua usmerja skupaj s 4 gostujočimi člani.
Vstopnice so že na voljo!
Formed in 2003, COMBICHRIST took founder Andy LaPlegua's hardcore past and electronica present and merged them into a singular, mechanical music monster. Since releasing the first COMBICHRISTalbum The Joy of Gunz, LaPlegua and COMBICHRIST have unleashed six subsequent full-lengths, including 2014's We Love You, and numerous EPs while also cracking Billboard's Top 10 Dance Singles chart. Their latest released studio effort, This is Where Death Begins, was produced by LaPlegua and Oumi Kapila (Filter), and mastered by the legendary Vlado Meller (Red Hot Chili Peppers, Slipknot). An apocalyptic behemoth of guitars, electronica, infernal drums and dark elemental force, it is easily COMBICHRIST's most accomplished effort to date and landed the band a top 30 chart position in Germany. COMBICHRIST plans to expand on this success while returning to their industrial roots with 2019's One Fire.
Predskupina Terrolokaust!
COMBICHRIST online:
www.combichrist.com
www.facebook.com/combichrist
Twitter: @combichristarmy
Instagram: combichrist
www.indiemerchstore.com/b/combichrist
TERROLOKAUST
https://www.facebook.com/Terrolokaust/
---