Eddie Izzard - Wunderbar (Čudovito)
36,00

EUR

36

33,00

EUR

33

29,00

EUR

29

25,00

EUR

25

Responsible organizer and seller

Cankarjev dom

Prešernova cesta 10, 1000 Ljubljana

+386 (0)1 2417 300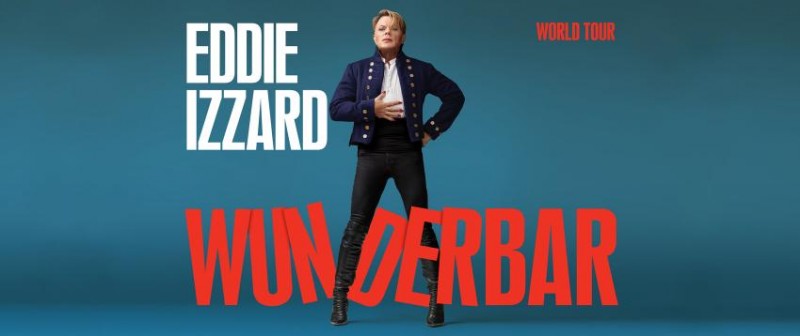 Prireditev drugega organizatorja
Eddie Izzard - Wunderbar (Čudovito)

Prireja: Tin Vodopivec, Aquarius Records in Mick Perrin Worldwide

S www.eddieizzard.com

Tin Vodopivec, Aquarius Records in Mick Perrin Worldwide predstavljajo komični spektakel leta:
Eddie Izzard v novem šovu Wunderbar
»Najbolj smešen stand-up komik, kar sem jih kdaj koli videl ... ljudje padajo s sedežev.« (THE SUN)
»Kralj vesolja ... komični genij ... utelešena zabava!« (THE TELEGRAPH)
Eddie Izzard velja za enega najboljših stand-up komikov naše generacije. Pet let po njegovi hit komediji FORCE MAJEURE, ki se je zapisala v zgodovino komedije z nastopi v kar 45 državah po svetu in tudi v vseh petdesetih državah ZDA, se EDDIE IZZARD vrača h koreninam s svojim popolnoma novim šovom. WUNDERBAR razglablja o njegovem edinstvenem, nadrealističnem pogledu na ljubezen, zgodovino in lastno »teorijo vesolja«.

IZZARD je razprodajal šove po vsem svetu, od Šanghaja do Mumbaja, med drugim tudi newyorški Madison Square Garden in celo prestižni The Hollywood Bowl v Los Angelesu.
»Bliža se čas, ko bom moral oditi in se za nekaj časa posvetiti političnemu življenju. A preden se to zgodi, želim občinstvu po svetu ponuditi svoje najboljše nastope stand up komedije – posebno zdaj v dobi Brexit – in sovraštva Trumpa. Moj novi šov zajema teme človeštva zadnjih 100.000 let, do govorečih psov in živalskih superjunakov.

Veselim se, da se bomo ponovno srečali.«

Eddie Izzard

WUNDERBAR je čudovit vpogled v nadrealistični, fantastični svet EDDIEJA IZZARDA.
Predstava v angleščini lahko vsebuje močan in domišljijsko navdihnjen jezik.

Komedija leta, ki je ne smete zamuditi!
---