UKREP 2018 - Enodnevna vstopnica 14.6.2018
12,00

EUR

Festivalska vstopnica

10,00

EUR

dijaki, študenti, upokojenci

Responsible organizer and seller

Plesni Teater Ljubljana

Kersnikova ulica 4, 1000 Ljubljana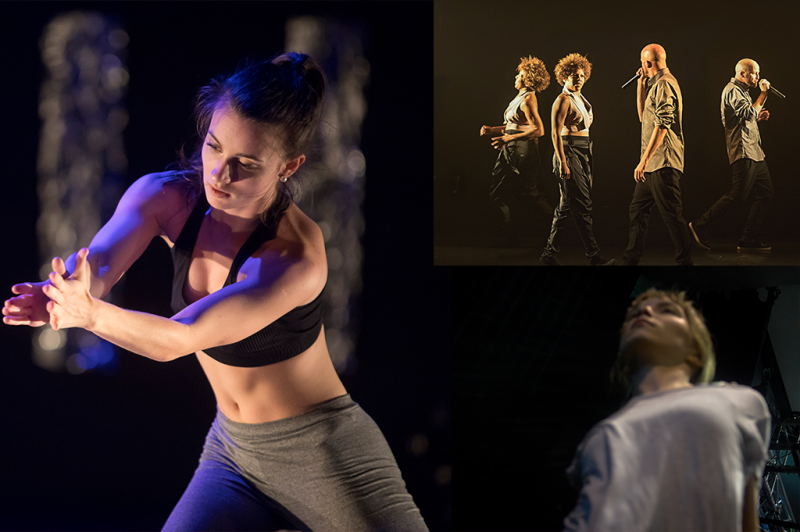 Thursday, June 14
7 p.m., PTL - UKREP: OPENING OF THE FESTIVAL, SELECTION OF SVŠGL SOLOS
8 p.m., PTL - SINJA OŽBOLT & TINA DOBAJ: ENTER!
presentation of the dance process
9 p.m., PTL - MAŠA KAGAO KNEZ & MURAT: LAKELESS
dance & beatbox performance
10 p.m., Prulček Bar - OPENING CONCERT: JAMirko X MURAT
beatbox night & Jam session
Secondary Preschool Education and Grammar School Ljubljana
SELECTION OF SOLOS, 7 p.m., PTL
presentation of graduation performances
Students at the SVŠGL department of contemporary dance dedicated both their annual dance production entitled Syntropy and the graduation solo performances by the fourth‑year students to the study of energy. The students will perform the following solo pieces:
Mateja Satler: ELECTRICITY! Music: Senking – Black Ice
Sarah Al Saleh: PARTS OF THE PROCESS Music: Sunnyin Aarah Al Saleh – Parts of the Process
Tinkara Susman: TENSION Music: AOKI Takamasa – Rythm Variations 05
Teja Čretnik: EXPLOSION IN ME Music: Bleep Bloop – Crushed
Katarina Zucatto: IN THE VORTEX Music: The Cinematic Orchestra – Arrival of the Birds

Mentoring: MAJA DELAK & NINA FAJDIGA
Lighting Design: URŠKA VOHAR
Sound Design: MATJAŽ PREDANIČ
Special Thanks: PLESNI AKTIV SVŠGL / SVŠGL DANCE COLLECTIVE
Produced by: SVŠGL, ALOJZ PLUŠKO
Sinja Ožbolt & Tina Dobaj
ENTER!, 8 p.m., PTL
presentation of the dance process
Created, Choreographed and Mentored by: SINJA OŽBOLT & TINA DOBAJ
Performed and Co-created by: MAJA LAMOVŠEK, MAŠA RADI, TINI ROZMAN, MANCA VUKELIČ

Dramaturgy and Dance‑thought Process Mentor: ANDREJA KOPAČ
Music: ANDREJ HRVATIN
Lighting Design: ALJAŽ ZALETEL
Produced by: PLESNI TEATER LJUBLJANA
Thanks to: ALOJZ PLUŠKO & SVŠGL
The mentors Sinja Ožbolt and Tina Dobaj entered the dance‑theatre research with four different dancers of the young generation through two doors: through space as architecture, and through inner spaces of the individual dancers. The presentation of the dance process will thus address questions of dance action, entries and exits, places of meeting, simultaneity, intertwining, and tuning. The artists will also be examining the meanings of stage presence and views of the Other.
Maša Kagao Knez & Murat
LAKELESS 9 p.m., PTL
dance & beatbox performance
Created and Performed by: MAŠA KAGAO KNEZ AND MURAT
Choreography, Dance: MAŠA KAGAO KNEZ

Original Music and Live Performance (beatbox): MURAT
Dramaturgy: JOSEPH NZONBANDORA - JOSE
Produced by: STUDIO XXV
Co-produced by: SiTi Teater & PLESNI TEATER LJUBLJANA
Dancer and choreographer Maša Kagao Knez and beat box master Murat joined forces in LakeLess, a performance that combines dance and beatboxing through fusion of sound and motion, based on direct communication originating in everyday patterns and situations, which are skilfully transformed by the authors into the universal language (motion and sound).
JAMirko X MURAT
JAMU BEATTAPE volume 1. + JAMirko SESSIONS Party at 10 p.m., Prulček Bar
JAMirko - gramophones
MURAT - MC, beatbox
BASS BRASS TRIO - Jaka Birsa, sax, Gašper Selko, trompet, Tomy Farkaš, trombone
JAMirko: »I started my electronic music production with hip hop beats. This year, I set myself the task of making one new beat every week. Murat, who I work with in a DJ/Beatbox combination, also accepted this challenge. Each Wednesday, we would get together in studio, compiling material for our joint JAMU BEATTAPE, the first compilation of our ideas, which had been waiting in the computer for a chance to finish them and get them out. These are mainly instrumental pieces in the hip hop aesthetics, where we mostly sampled funk and soul material from various sources."
Murat: "Originally, I started working on beats in order to rap over them. However, I haven't found the right idea for all the beats, so there were quite a lot of them. I also worked out of pure love for music. I used some of the beats for various project, but most of them remained on the computer. With JAMirko's idea of a joint 'beat tape', I got the chance for some of my music to reach a wider range of people."
JAMU BEATTAPE volume 1 was released in May 2018 and is available as free download here: Main download link, SoundCloud, Bandcamp.
UKREP 2018 / Taking Measures 2018: ENTER!, biannual Festival of Dance Perspectives is a part of the programme of PTL – Dance Theatre Ljubljana. The programme of PTL – Dance Theatre Ljubljana is in public interest in the field of culture and art, and is subsidized by the Ministry of Culture of the Republic of Slovenia and the Municipality of Ljubljana, Department for Culture.
PTL – Dance Theatre Ljubljana is the recipient of the European award »EFFE Label 2017/2018« for » Remarkable Festival« for UKREP / Taking Measures, Festival of Dance Perspectives, selected by the international festival jury of European Festival Association (EFA).
---