UKREP 2018 - Festivalska vstopnica
40,00

EUR

Festivalska vstopnica

Responsible organizer and seller

Plesni Teater Ljubljana

Kersnikova ulica 4, 1000 Ljubljana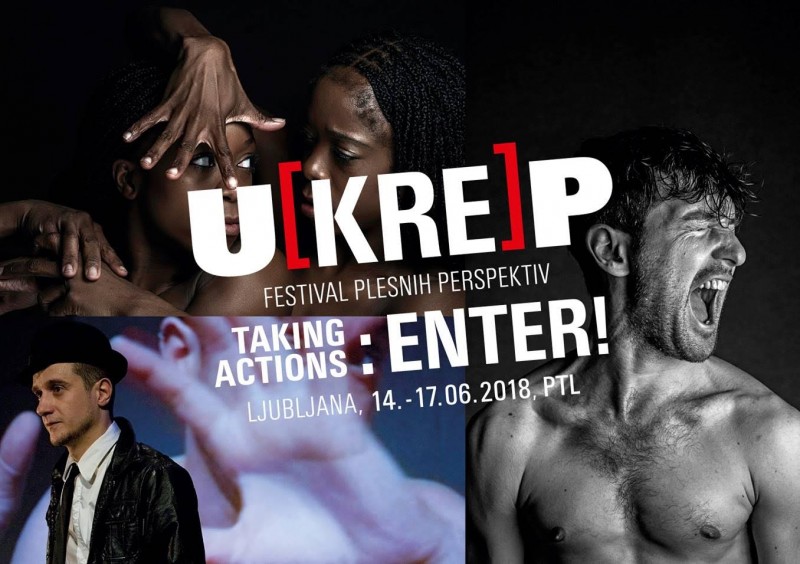 Festival UKREP 2018: ENTER!
festival of dance perspectives
Ukrep 2018, the 6th Festival of Dance Perspectives, is once again loyal to its core mission: to act and respond to the needs of the Slovenian cultural space in contemporary dance practices, positioning them in a creative dialogue with international arena. This year's edition, entitled ENTER!, once more aims to support and expand the choreographic practices of young Slovenian artists by participating in international projects, by actively engaging in the creative process of talented foreign authors, by connecting with other creative spaces (Glej Theatre, Lighting Guerrilla Festival, Trubar Literature House) and by upgrading in the fields of (international) dance dramaturgy, dance photography and dance video film.
Artistic Leadership and Selection of the Festival Ukrep 2018: KATJA SOMRAK, ANDREJA KOPAČ
Organization and Production: KATJA SOMRAK, ŽIVA BRECELJ, EVA POSEDEL
Technical Crew: JANKO OVEN, ALJAŽ ZALETEL, TOMAŽ PATERNOSTER, LCLIGHTS
Texts: ANDREJA KOPAČ, ŽIVA BRECELJ
Translations and Proofreading: TADEJ TURNŠEK
Photo: DRAGO VIDEMŠEK
PR: KATARINA NIKOLOV
Festival Host: JAN ROZMAN
Graphic Design: PRIMOŽ PISLAK
Printing: COLLEGIUM GRAPHICUM
Thanks to: ALOJZ PLUŠKO, SVŠGL, PRIMOŽ PISLAK, PETRA KLUČAR, MIHA COLNER, TILEN MEJAČ
---